Update: Brennan Makes June 7 Ballot Race Deadline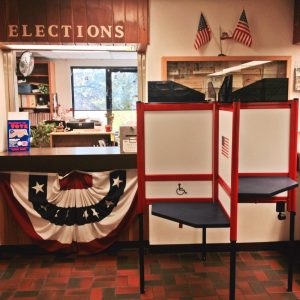 Tuolomne County Election Office

View Photos
Update 4:45 p.m.: Tuolumne County District 1 Supervisor Sherri Brennan is officially on the ballot to re-seek her seat in the June 7 primary elections, having filed her final paperwork Friday afternoon ahead of the 5 p.m. deadline.
Tuolumne County Elections Official Debbie Bautista indicated that, over the years, plenty of incumbents who had previously signaled they would not run have changed their minds at the last minute, so she would not have been surprised if Sonora Councilmember Ron Stearn showed up with finalized papers. However, as he did not, the deadline for candidates to complete paperwork for the Sonora City Council race will be next Wednesday at 5 p.m.
Original Post: Sonora, CA – For a number of Mother Lode June primary election races where incumbents are running, today at 5 p.m. is the deadline for filing final paperwork.
In the Tuolumne County District 1 race, incumbent Sherri Brennan has until 5 p.m. today to file the necessary final paperwork that she previously stated intentions to submit, according to Tuolumne County Clerk and Auditor-Controller Debbie Bautista, who also serves as the county's elections official. Civil engineer Jerry Fuccillo and businessman Chuck Kiel, who filed in February have obtained their signatures and completed their paperwork.
According to Bautista, the District 4 race is now a competitive one, as contractor Don Matter finalized his papers and is slated to challenge incumbent John Gray. In the District 5 race, both incumbent Karl Rodefer and college instructor Sara Shier have officially qualified for the ballot.
With three Sonora City Council seats up for election and incumbents Bill Canning and Connie Williams already on the ballot, should Ron Stearn choose at the last minute to run and complete his paperwork by 5 p.m., the ballot for the council race would close, Bautista says. However, as he earlier indicated that he is not seeking another stint, three contenders in the process of finalizing their submissions presumably have until next Wednesday at 5 p.m. to do so. They are business owner Mark Plummer, former council member Matt Hawkins and attorney/musician David Axelrod. Incumbent City Clerk-Treasurer Marijane Cassinetto is currently running unopposed to retain her seat.
In Calaveras County, it looks like incumbent District 1 Supervisor Cliff Edson, who is also the current board chair, will face business owner Gary Tofanelli and retired business consultant Sharon Romano. According to County Clerk-Recorder/Elections Coordinator Robin Glanville, Kurt Boese, who had earlier pulled papers, has until 5 p.m. to join the ballot. In the two other districts up for re-election, District 2 Supervisor Chris Wright and District 4 Supervisor Debbie Ponte have both publicly announced they will not be seeking new terms, if neither finalizes paperwork by 5 p.m., those hoping to make a run have until next Wednesday at 5 p.m. to get into the ring. So far, business owner/rancher Jack Garamendi is listed alone on the 2nd District race ballot, although Sean White also pulled papers to run. Three contenders for the District 4 seat have completed the necessary paperwork to appear on the ballot; they are Calaveras County Water District Director Dennis Mills, family nurse practitioner Ann Radford, and restaurateur Sherri Smith.
On the ballot for State Assembly Member District 5, incumbent Frank Bigelow faces businessman/builder Mark Belden of Railroad Flat. Twain Harte contractor Robert Carabas, reportedly running, has not yet qualified for the ballot.