Second Weekend In March Events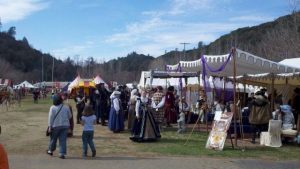 Celtic Faire

View Photos
It is March but not yet St. Patrick's Day (Thursday, March 17th) Murphys will be ready next weekend for their big Parade but this weekend is the big Celtic Fair at the Mother Lode Fairgrounds and Visit Sonora Second Saturday. A full rundown of Visit Sonora Second Saturday events is here.
The Celtic Fair ends winter hibernation for many fair-going enthusiasts. A chance of rain will not prevent any of the creative and detailed costumes from being seen. As chronicled yesterday here the Mother Lode Fairgrounds will be busy with visitors and entertainers celebrating the 30th anniversary of the event. Bands playing at the Friday night dance, Saturday and Sunday include the Wicked Tinkers, Tempest, Stand Easy (featuring our former piper John Allan), The Black Irish Band and more. Their event invitation is listed here.
On Friday night only the Columbia Elementary PTA, with permissions from Movie Licensing USA, will feature 'The Good Dinosaur' on a 13 foot Screen at 6pm in the Cafeteria. Bring a pillow and blanket, donations are accepted, there will be pizza, other food sale. The location details are here.
Saturday morning you don't have to cook breakfast, there are four put on by various local groups listed with Saturday's events here.
On Sunday, among other events is the Butte Bash. The free event, with live music, and food is from 3pm to whenever for all Butte survivor's, families and friends. The event is organized by the Mountain Ranch Resource Center & Mountain Ranch Community Church with the cooperation of the Mountain Ranch Community Club. Details are here.
Also in Calaveras on Sunday check out the 13th Annual Mother Lode VW Sonntag Treffen. Hosted by the Mother Lode Volkswagen Club, VW fans and VW clubs are invited last year the group reported over 100 vintage Volkswagens at their event.
For an indoor event on Sunday check out the Innovation Fair. It will showcase the Innovation Lab and the classes they offer, more details are here.
Review weather details here as you plan for umbrellas and rain this weekend, and don't forget it is finally time to spring forward with daylight savings time at 2am on Sunday. In 2005 congress deemed that daylight saving time would start the second Sunday in March, which this year is March 13.
Next Week: Click on a date for more events coming up

S
M
T
W
T
F
S
13
14
15
16
17
18
19