Honoring Butte Fire Heroes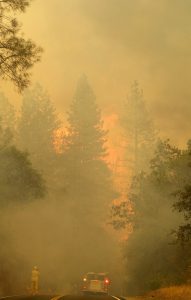 The Butte Fire When It Approached Highway 26 In Moke Hill

View Photos
Sacramento, CA – Several community residents and businesses are being honored for their selfless acts during the Butte Fire.
The annual Red Cross Heroes Breakfast for San Joaquin, Calaveras, and Amador counties will take place Wednesday, March 16. This event honors local everyday heroes who have performed heroic acts and are nominated by community members. Of the nine categories, four pertain to extraordinary actions during and in the wake of the Butte Fire. "We were pleasantly surprised that we received a large number of nominees from the fire," stated Red Cross spokesperson Lilly Wyatt, "some that were not even associated with the organization."
The breakfast will begin at 7:30 a.m. and held at Wine & Roses located at 2505 West Turner Road in Lodi. For more information or tickets, which proceeds go to local emergency relief efforts, click here. The Red Cross provided this list of honorees:
Animal Rescue Hero – Laughton Ranch Feed and Supply (Jackson)
Jim and Bobbi Laughton, owners of Laughton Ranch Feed and Supply, opened their facilities to Butte Fire's evacuated pets and livestock that had no place to go as the blaze threatened their homes. Beyond providing a place for hundreds of animals to stay, the staff, volunteers, and donors working with Laughton Ranch ensured that animals had attention, water, food, and veterinary care.
Workplace Hero – Colleen McCarthy (Jackson)
During the Butte Fire of 2015, Jackson Rancheria generously made its staff and facilities available for fire evacuees, assisting hundreds affected by the fire by establishing a shelter at the hotel. Colleen McCarthy, head of security for Jackson Rancheria in Amador County was on hand when a woman in the shelter became distraught, ran from the shelter and disappeared from the area. She had recently lost her husband and her home had just been destroyed by the fire. Ms. McCarthy initiated a search and the client was found, unharmed. Later, in a letter, the woman told Ms. McCarthy that she saved her life.
Volunteer Heroes – Paul Keaton (Pioneer) and Dennis Lewis (West Point)
When a former Red Cross Volunteer Leader in Amador County retired, Mr. Keaton stepped up and took on the job to keep the team of volunteer community responders active. The day the Butte Fire broke out, he immediately began making calls in case shelters were needed. When the offer came from Jackson Rancheria, he was ready to respond.  The call to open came at 11:00 pm and Mr. Keaton and his team opened the shelter doors at 11:45 pm. Together they maintained the night shift throughout the few weeks the shelter was open.
Dennis Lewis has been a devoted Red Cross volunteer for many years. Dennis became more than a leader during the Butte Fire response. He was the chief of operations for this wildfire, which became the seventh most destructive wildfire in California's history. Mr. Lewis continues to help with the recovery process.
Military Hero (Veteran) – Al Gilbert (Angels Camp)
Like many military members, Al Gilbert wears his military service with pride. A Vietnam Veteran Navy Seabee, Mr. Gilbert took on the role of Commander of the fledgling VFW Post 12118 in Copperopolis in 2012 and built it into one of the top VFW posts in California, known for its community service and outreach. In 2013 Hospice of Amador and Calaveras began the new program, Vet-to-Vet. Part of the national 'We Honor Veterans' program, Vet-to-Vet matches' veterans in hospice care with an era-appropriate vet. Mr. Gilbert volunteered and was paired with a fellow veteran. Gilbert not only gave care and comradeship to the veteran, but helped his family as well. Mr. Gilbert works tirelessly and continues to help dozens of clients.