Construction Projects On Sonora Council Agenda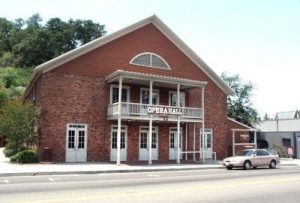 Sonora Opera Hall

View Photos
Sonora, CA — Improvements are planned at both Sonora City Hall and the Opera Hall.
On the agenda for tonight's Sonora City Council meeting is a proposal to award a contract to Baldwin Construction in the amount of $17,100 to install Americans With Disabilities Act (ADA) access improvements at the Green Street entrance on the second floor of City Hall. At the recommendation of an outside consulting group, the city is looking to relocate the handicapped parking space on the second level of the parking structure, add an ADA van accessible space, create an accessible path of travel from these parking spaces, add new ADA signage and make the entrance ADA compliant.
In addition, the Council will vote on a $20,000 contract with the same company to make repairs to the balcony, and east gable, of the Sonora Opera Hall. It is related to problems that have arisen from dry rot.
The Council will also decide whether to send a letter to California state Senator Carol Liu opposing legislation she is proposing related to homelessness. The language of her bill states that it would allow homeless residents the right to use public spaces "without discrimination based on their housing status and describe basic human and civil rights that may be exercised without being subject to criminal or civil sanctions, including the right to use and to move freely in public spaces, the right to rest in public spaces and to protect oneself from the elements, the right to eat in any public space in which having food is not prohibited, and the right to perform religious observances in public spaces, as specified."
The city's drafted letter in opposition to Senator Liu would note, "The key to getting people off the streets is to provide more shelter. We need resources: permanent housing beds and accompanying social services such as mental health treatment, job training, addiction counseling, etc. Cities and other local agencies need more funding and flexibility to provide these proven programs."
Tonight's City Council meeting starts at 5pm at City Hall.