Update: Winter Storm Warning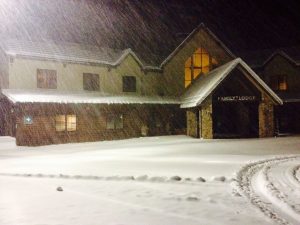 Dodge Ridge Ski Area Family Lodge

View Photos
The Winter Storm Warning for the Sierra Nevada will remain in effect until 6 PM tonight.
Snow levels will mostly range between 3,500 to 5,000 feet.
Total snow accumulations of up to a foot is expected above 3,500 feet. One to three feet of snow is likely to fall above 6,000 feet. Three to five feet of snow is forecast above 8000 feet.
Impacts will include blowing and drifting snow with local whiteout conditions, hazardous winter travel, possible road closures and chain requirements.
A Winter Storm Warning means severe winter weather conditions are expected or occurring. Significant amounts of snow are forecast that will make travel dangerous. Only travel in an emergency. If you must travel, keep an extra flashlight, food and water in your vehicle in case of an emergency.