Tuolumne County Opposes FEMA "Deductible" Concept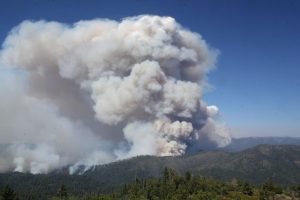 Rim Fire - View From Pilot Peak Lookout

View Photos
Sonora, CA — FEMA is trying to reduce the amount of money spent responding to disasters, and is looking at the idea of implementing a "disaster deductible."
It was noted at Tuesday's Tuolumne County Board of Supervisors meeting that there is not a specific proposal at this time, but FEMA is soliciting comments on the "deductible advanced-rule-making-concept." For example, during the 2013 Rim Fire, a Presidential Disaster Declaration was signed and funding was made available for things like debris removal, emergency protective measures, and replacing disaster-damaged facilities. 75% of the costs were covered by the federal government, 18.75% by the State of California and 6.25% by the local government. FEMA is looking at the idea of implementing a base-deductible that must be paid first in order to receive the federal funding.
The Board of Supervisors voted to send a correspondence letter stating, "Not only is the proposed rule-making unclear and ambiguous, it offers the opportunity to provide additional burden to local government when responding to, and recovering from, a disaster."
When speaking about the national disasters witnessed in Tuolumne County, District One Supervisor Sherri Brennan noted, "A lot of them are reflective of the national government not doing their job, and they are directly related to forest management, and the unhealthy conditions we see out there."
District Five Supervisor Karl Rodefer, citing that much of Tuolumne County is federally owned land, added, "I have a real hard time with the feds trying to up the threshold before they'll come in and help us fix the mess they made."
The letter was sent following a 4-0 vote. District Two Supervisor Randy Hanvelt was absent.