Sonora Man Arrested For Threatening ER Nurse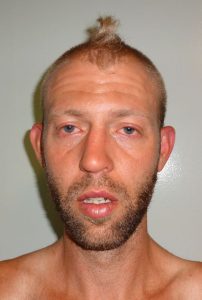 Adam McCoy

View Photos
Sonora, CA — A Sonora man was taken into custody after making threats to a nurse in an emergency room.
It happened at 1:41am this morning at Sonora Regional Medical Center. The Police Department reports that 31-year-old Adam McCoy threatened to physically assault an ER nurse. The incident was witnessed by another hospital employee. Police Chief Mark Stinson says McCoy was upset with the treatment he was receiving and became uncooperative, and confrontational. McCoy then allegedly decided he was going to leave the hospital prior to completing treatment, and he walked toward the nurse and another staff member, making an aggressive threat to hurt them. He did not actually attack hospital staff, but there was a high level of concern due to his aggressive nature.
The Police Department responded and took McCoy into custody on a felony charge of making criminal threats. He was also later found to be in possession of ½ gram of methamphetamine.