New Logo Unveiled For 2016 Frog Fair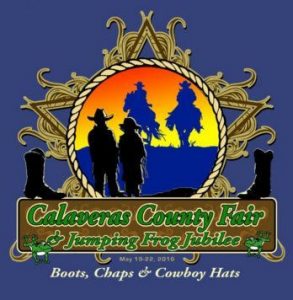 2016 Calaveras County Fair and Jumping Frog Jubilee

View Photos
Angels Camp, CA — A summer sunset horseback ride is this year's logo and can be viewed in the upper left-hand image box.
The logo highlights the 2016 Calaveras County Fair and Jumping Frog Jubilee theme: "Boots, Chaps and Cowboy Hats." Mike Bowsher, owner of Black Diamond Graphics with his wife Karan, created the logo.  The company, based out of West Point, is the dealer and designer of all the official merchandising for the fair. Fair officials note that the couple is very active in the community, as well as the fair.
Of note, fair officials recently announced a new rule change regarding pigs. To be considered market ready, the swine must now weigh between 210 and 270 lbs. The weight restrictions come as a request from the harvesting plant, according to fair official.
For more information on this year's Calaveras County Fair and Frog Jumping Jubilee, click or rather hop here.