Blue Cross Gifts SRMC $25K For 'Family Fit' Wellness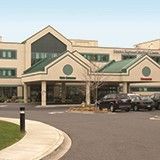 Sonora Regional Medical Center

View Photos
Sonora, CA — An infusion of Anthem Blue Cross funds will help keep a critical school fitness program alive and well in Tuolumne County.
Gratefully acknowledging a recent Anthem Blue Cross award of $25,000 to benefit the county's  "Family Fit" wellness program, now in its fourth year, Sonora Regional Medical Center (SRMC) spokesperson Gail Witzlsteiner notes, "Because childhood obesity is such a critical problem in our county, it is important that we continue to find ways to support outreach programs like 'Family Fit'."
The initiative, which focuses on providing targeted health and fitness education to local third-graders and their parents, is geared towards encouraging better diet and fitness choices. It is jointly administered by SRMC and the Tuolumne County Superintendent of Schools Office. Superintendent Margie Bulkin affirms the effort as important and age-appropriate. Dietician Jodie Rodriguez, who helped launch "Family Fit," points to quantitative results that indicate an average fitness improvement of over 70 percent in the 383 participating students measured over the 2013-14 school year. "That is a huge improvement in just one year and, coming at such an early age, it should have long-lasting impact on these children," she states.
For more program details contact Ms. Rodriguez at 209 536-3728.