SCC Staff, Inmates Raise Funds For Service Dog Projects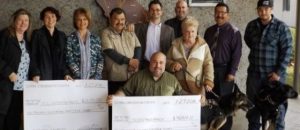 Sierra Conservation Center have gifted funds to local victim witness assistance and veterans' service dog training

View Photos
Jamestown, CA – Call it a feel-good story for the week; giving-spirited efforts at Sierra Conservation Center have gifted funds to local victim witness assistance and veterans' service dog training.
According to SCC spokesperson Lt. Robert Kelsey, the Tuolumne County Victim Witness Assistance Center and Silver Paw Rescue Ranch received checks this week resulting from various fundraising activities. Lt. Kelsey states that nearly $5,300 of the monies were raised through generous donations from local businesses and staff of items that were subsequently bundled into a gift basket raffle. Those proceeds were split between the two organizations. A separate inmates' initiative generated more than $1,600 more for Silver Paw.
Kelsey reports that Silver Paw plans to build a shelter for its service dogs in training as well as provide vets with portable kennels for their dogs at the time of placement.
Interestingly enough, the victim witness assistance center has earmarked their funds to acquire a service dog that will help children cope with trauma and also be present on the witness stand in cases that require them to testify in court.