Security Camera Captures Pharmacy Burglary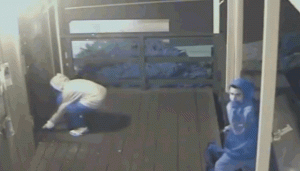 Bob's Greenley Pharmacy Suspects
Sonora, CA – A local pharmacy owner hopes that "surprisingly very clear video" surveillance captured during an early morning break-in will shortly lead police to the culprits.
Early Saturday morning, shortly before 5, pharmacy owner John Williams says two individuals broke into Bob's Greenley Pharmacy on Delnero Road in Sonora and made off with cash and pharmaceutical items. As Williams recounts, "We have a great deal of security, but these two broke a side-glass on our door and squeezed through bars that we close over the door each night." In the footage, the two wore light blue and white hooded jackets and covered their faces with scarves. The upper facial characteristics of one of the individuals, apparently agitated, was caught in several frames while looking uneasily around their entry point while the other suspect repeatedly threw a large rock at the glass.
The thieves got away with petty cash out of the cash registers and took two or three bottles of medication out of the pharmacy. The burglary happened over the course of about three minutes, and the suspects then fled. Williams surmises the security alarm that went off as soon as they broke the glass may have spooked them. "Sonora PD arrived minutes after they got out – we have it all on video tape – it is all in the hands of the Sonora PD," he explains. Williams continues, "It is surprisingly very clear video…I feel very lucky that not a great deal was taken."
Williams believes that the incident highlights a growing local problem with burglaries; whether they relate to growing drug problems, he says, is for another forum to decide. What Williams will say he knows for certain is that there are just "way too many" break-ins, these days. "Many other people have been hurt and much more have been stolen from…I do not want these two to do this to anybody else in this town," he states firmly, adding, "I hear about it from customers and friends – we need to stand up and stop this."
To view the surveillance footage, click the link in the above left image box, below the still image. The Sonora Police requests anyone with information to call their office at 209 532-8143.