Local Supervisor Races Drawing Interest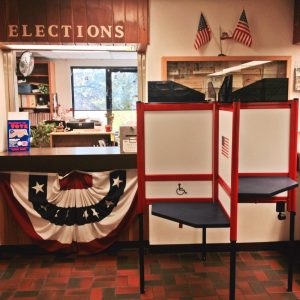 Tuolomne County Election Office

View Photos
Sonora, CA — The filing deadline for the June primary election is March 11, and several candidates are out collecting signatures in anticipation of a run for office.
Prospective candidates have the option of collecting signatures in-lieu of paying filing fees. In Tuolumne County, the District One Supervisorial race is drawing interest, with incumbent Sherri Brennan pulling papers to begin collecting signatures. Others that have done the same are Gerard "Jerry" Fuccillo and Chuck Kiel. In the District Five race, incumbent Karl Rodefer has taken out papers, as well as challenger Sara Shier. In District Four, incumbent John Gray is the only person that has pulled papers to this point.
Four candidates have pulled papers in anticipation of running for the District One Calaveras County Supervisors seat. They are incumbent Cliff Edson, Gary Tofanelli, Kurt Boese and Sharon Romano. The potential District Two candidates are John Garamendi Jr. and Sean White, and in District Four, Dennis Mills, Ann Radford and Sherri Smith.
There are also three Sonora City Council seats up for election, and only incumbent Connie Williams has pulled papers to this point. The other incumbents are Ron Stearn and Bill Canning.