Public Safety Officials Of The Year Honored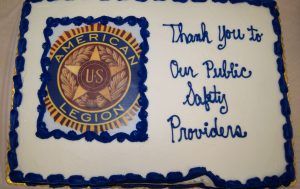 American Legion Legion Smyth-Bolter Post 58 Honors Tuolumne County Public Safety Officials, February 2016

View Photos
Sonora, CA — This week several Tuolumne County public safety officials were saluted for exceptional community service to the Mother Lode.
The American Legion Smyth-Bolter Post 58 released its list of awardees of the year for 2015, who were feted earlier this week at a special post-hosted dinner.
On hand at the event, Officer Nick Norton, spokesperson for the California Highway Patrol (CHP) Sonora Area Unit, shares that Officer Ken Bruce received the CHP Officer of the Year award. Bruce, a 28-year CHP veteran, worked in San Jose and Sacramento for nine of them before coming to Tuolumne County. After spending 14 years as a Groveland resident post officer, Bruce moved to an administrative role at the Jamestown office and now serves as the collision review and evidence control officer. (To view other images shared by Officer Norton, click in the left image box.)
The other honorees of the year are as follows: Sonora Police Department, Detective Ibrahim Khalil; CAL FIRE, Christa Covert; Tuolumne County Sheriff's Office, Detective Robert Speers; Probation Office, Officer Ashley Wilson; Sonora Fire Department, Fire Engineer Adam Mandell; Superior Court, Mary Jane Barendregt; District Attorney, Christine Miller; Sierra Conservation Center, Lt. David Fish; Forest Service, Officer Lynn Bird.