Tuolumne Deputy Of The Year Lauded; Sonora PD Also Announces Awards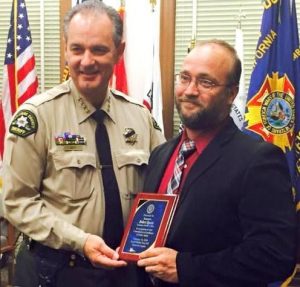 Tuolumne County Sheriff Jim Mele and Det. Paul Speers, Deputy of the Year 21015

View Photos
Sonora, CA — It is a big week for law enforcement award announcements with several being honored for their work.
The Tuolumne County Sheriff's Office announced Wednesday that Detective Robert Speers has been named Deputy of the Year by American Legion Post 58. Lauding Detective Speers for his work, attitude and concern for the community, the department also recognized his investigative efforts as lead detective for a series of weapons-related burglaries and thefts that enabled several arrests and the recovery of over 60 stolen firearms. He was also credited for helping track a missing person case in Columbia that led to the subsequent arrest of her husband for homicide.
Today, the Sonora Police Department's Awards Committee publicly released its employee and volunteer of the year honorees for 2015. Ryan Webb received the department's Medal of Valor. As previously reported here, Governor Jerry Brown personally presented Officer Webb with the Governor's Public Safety Officer Medal of Honor last fall for his courage in the face of a deadly chase and shooting incident in downtown Sonora. Other awards are as follows: Officer of the Year, Ibrahim Khalil; Civilian Employee of the Year, Cyndi Nordvik; Reserve Officer of the Year, Dennis Townsend; CSO Volunteer of the Year, Linda Monroe; Explorer of the Year, Nick Cragholm; and MADD Officer of the Year, Jonathan Ma, who logged 24 DUI arrests.