Update: Roadway Reopens After Downed Tree Blocks Lanes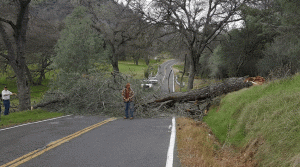 Tree across Pool Station Road

View Photos
Update at 3pm: The CHP reports the downed tree on Pool Station Road north of Highway 4 has been removed and traffic is moving freely once again.
Update at 1:40pm: The CHP reports that one lane has been opened on Pool Station Road as county road crews have been able to remove a section of the large tree blocking the roadway. Officers are now directing one-way traffic control. The CHP expects to have the roadway reopened entirely in the next couple of hours.
Original Post 12:53pm:  Angels Camp, CA — The CHP reports a large tree came crashing down on a major connector between two Mother Lode highways.
The tree fell just before noon onto Pool Station Road North of Highway 4. Officers have closed the roadway in both directions turning vehicles back to Highway 4 or 49 in San Andreas. County road crews are heading to the scene to remove the tree and debris. The CHP has given no estimated time as to when the roadway will reopen.
Motorists should expect delays or try to avoid the area, according to the CHP. Traffic is moving freely on Highway 4 and 49.