Update: New Power Outage In Big Hill Road Area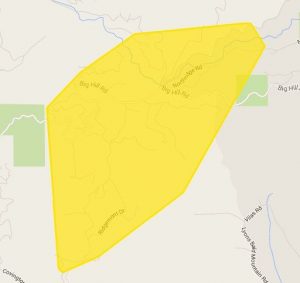 Power outageBig Hill Road area

View Photos
Update at 6:05pm: PG&E reports 145 customers in the Big Hill Road area along North Bald Mountain, Big Hill and Northridge roads are without electricity. The power went out just after 5 p.m. The company reports a crew has been assigned to assess the problem. There is no estimated time  of repair.
Power has been restored to 218 Arnold customers whose lights went out around 4 p.m. Additionally, the 21 remaining customers in the Sonora area that have been without electricity since 10:30 a.m. now have their lights back on.
Update at 5:15pm: PG&E is reporting a power outage in Arnold affecting more than 218 customers. The lights went out just before 4 p.m. along Moran Road, Nola and Rainy drives. There were reports that a tree branch hit and sparked a fire at a transformer on the 700 block of Marilyn Way in the impacted area. However, the company has not confirmed that as the cause citing crews are at the outage location and investigating. There is no estimated time of repair.
Additionally,  21 customers in the Sonora area remain without power. Initially more than 1,400 customers were impacted when the lights went out around 10:30 a.m. Electricity was restored to most customers around 12:30 p.m. The company reports a tree in contact with electrical equipment is to blame for that outage. PG&E has now pushed back the estimated time of repair for a third time to 7 p.m.
Update at 2:30pm:  PG&E has pushed back the restoration time for the remaining 21  PG&E customers in Sonora still without power since around 10:30 this morning. The company now estimates the repair time at 5pm.
Update at 1:20pm: PG&E has pushed back the repair time for nearly 150 customers in the Columbia area who have been without lights since just after 11am. Crews are working to restore the power and there is no information on what caused the electricity to go out. The company now estimates the repair time to be around 2:40pm.
Update at 12:20pm: PG&E reports that all but 21 PG&E customers in Sonora have been restored. Full restoration is anticipated by around 3:30pm.
Original story posted at 11:15am: Sonora, CA — PG&E reports that 1,462 customers are without electricity in Sonora.
A downed power line was located near the intersection of Barretta Street and Lytton Street, which could be related. It is not immediately clear when the outage will be restored.  As a result, the traffic light is out at the intersection of Greenley Road and Mono Way, so the police department is providing traffic control. In addition, it has forced Sonora Regional Medical Center to temporarily go on generator power. Other nearby streets impacted include, but are not limited to, Lyons, Morningstar, Summit, Jackson, Columbia Way, E. Oakside and O'Hara Drive.
We'll pass on more information when it becomes available.