Vehicle Crashes Into Business At Busy Sonora Intersection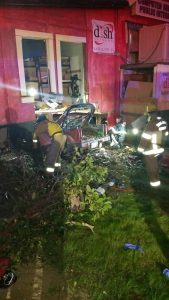 Vehicle Crashes Into Sonora Business

View Photos
Update at 7:30pm: Traffic is again moving freely near the intersection.
Sonora, CA — The CHP is on the scene of a crash at Tuolumne Road and Mono Way, where a vehicle has smashed into a computer store, forcing the closure of a turn lane.
According to the CHP, firefighters are now on scene. Ralph Caspary, the owner of AV Computer Store, located in the red building at 13613-B Tuolumne Road, reports that a vehicle had smashed on through and came to rest at the bottom of the structure. He adds that firefighters are now tearing into the back wall in their efforts to rescue the driver.
Responding units are also dealing with a reported water line break due to the incident. The CHP has shut down the right turn lane from eastbound Mono Way onto Tuolumne Road with no time estimate as to when the lane will re-open. We will update this story as more information comes into the news center.