Update: Sheriff's Office Shares Footage Of Missing Man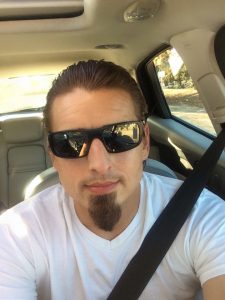 Allen Christopher Martin
Update: 4:08pm: As seen in the surveillance footage from Chicken Ranch Casino in the left image box, missing Modesto man Allen Martin left the Chicken Ranch Casino at 10:30 p.m. on Feb. 9, and walked across the parking lot towards Chicken Ranch road. According to the Tuolumne County Sheriff's Office, he has not contacted any of his family members since that evening. Anyone with any information is asked to contact the Sheriff's Office at  209 533-5815.
Original Post: 6:54 am: Jamestown, CA — The Tuolumne County Sheriff's Office continues to seek information about a Modesto man that was last seen walking away from the Chicken Ranch Casino.
35-year-old Allen Christopher Martin left the Jamestown casino one-week ago today, at 10:30pm, and was walking towards Chicken Ranch Road. He was wearing blue jeans, a long sleeve blue shirt and gray jacket. The Sheriff's Office reports that officials have been in contact with area businesses, and have been looking at surveillance video, trying to find any clues regarding Martin's disappearance.
Yesterday the Sheriff's Office Search and Rescue team expanded the search radius with the help of a helicopter. Officials have also been in regular contact with Martin's family and there is no information to suggest where he may have gone.
He is 6'02, 200 lbs., with brown hair and brown eyes. Anyone with information on Allen's whereabouts should contact the Sheriff's Office at 209 533-5815.