Local Medical Pot Rules High On Both Calaveras, Angels Agendas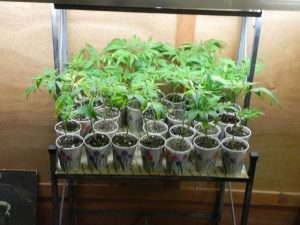 Marijuana Plants

View Photos
Calaveras County, CA – On Tuesday both Calaveras supervisors and the City of Angels council plan to press on towards developing local medical pot cultivation ordinances.
At its Jan. 26 meeting, the Calaveras County Board of Supervisors wanted more time to review the ordinances they had been working after deciding that it should have more weigh-in from various county departments before making a final decision. Since the meeting, Governor Jerry Brown additionally signed an amendment to the new state laws, which eliminated a previously stated deadline for local jurisdictions to adopt local rules by March 1. The supervisors now plan to spend the bulk of their Tuesday meeting giving their final policy direction, after which the ordinances will channel through the planning commission and, finally again through the board, perhaps at a joint meeting. The ordinances would publish ahead of scheduling them for final adoption at a board meeting, after which the ordinances will go into effect within 30 days.
County Counsel Julie Moss-Lewis, in the meeting documents, indicated that county offices have submitted numerous questions. Chief among these are whether the board wishes to create a temporary approval or other mechanism to allow medical cannabis cultivators anticipated to meet state and local requirements for commercial grows to operate legally pending licensure through the state. Numerous other considerations already posed for consideration include whether the agricultural commission would become the primary inspection and enforcement arm for cultivation sites, and if lawful cannabis cultivation would be allowable in A1 or AP zones as "legally existing agriculture land uses" for purposes of its "right to farm" provisions. Other discussions will likely address how the board wants to proceed with regard to regulations and conditions for noncommercial caregiver grows, as well as taxation and added security requirements for commercial cannabis operations.
The supervisors' only other agenda item will be to adopt draft "in favor" language for its Measure A proposal, set for the June 7 ballot, that would allow the formation of a Resources Conservation District (RCD) for the unincorporated areas of the county except for East Bay Municipal Utility District lands. The county elections office, now on a tight series of deadlines for public notice and solicitation arguments may choose to assign County Counsel Megan Stedtfeld or authorize someone else to prepare rebuttal arguments. The meeting begins at 10 a.m. at San Andreas Town Hall (24 Church Hill Road).
Medical Pot Rules Top Angels Agenda
Following a 5:30 p.m. closed session to discuss existing litigation, the City of Angels City Council will dispatch a short consent agenda that includes rejecting bids submitted for planned upgrades at Utica and Tryon parks on technicalities so that the work may be re-bid in compliance with new laws in place pertaining to Community Development Block Grants (CDBG). The council will then turn their attention to a medical cannabis cultivation workshop to be led by Angels Camp City Counsel Derek Cole.
In the meeting documents, Cole outlines a menu of major discussion subjects to address: indoor versus outdoor regulation and square footage allowable as well as limitation on numbers of plants that may be grown; property setbacks and location-related restrictions; shielding and security of grows; and local permitting requirements. Cole highlights that the city may well consider how it would enforce any local ordinance it seeks to adopt, given its resources, stating that more simple requirements allowing for quicker verification may be preferable to complicated ones using precise measurements.
The council has scheduled to hold this meeting in the Bret Harte High School Multi-purpose Room (323 South Main St.).