Tire-slashing Vandals Strike In Jamestown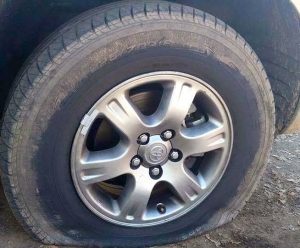 Slashed Tire, Feb. 15, 2016, in Jamestown

View Photos
Jamestown, CA — Sheriff's officials investigating a series of early morning tire-slashing incidents are requesting residents' help.
Vandalism reports started pouring in to sheriff's dispatchers as early as 3:20 this morning, according to the Tuolumne County Sheriff's Office. Officials say that they currently have records of more than 20 vehicles in the Jamestown area that were targeted in locations along Fifth Avenue, Sierra and Preston lanes, and more reports are coming in. Deputies, who visited the locations after learning of the initial incidents, subsequently knocked on doors adjacent to where they spotted tire damage in order to alert all possible victims of the vandalism attacks.
Anyone with a possible suspect description — and those suffering damage to their vehicles early this morning who did not receive a personal notification from deputies are encouraged to call the Sheriff's Office at at 209 533-5815. Sheriff's officials are also interested in seeing any surveillance footage that residents might have available.
The Sheriff's Office also shares the following vandalism prevention tips: if possible, park vehicles in a secure garage or keep vehicles parked in well-lit areas; whenever possible, install motion detector lights and surveillance cameras. Too, call law enforcement to report suspicious activities and persons, making sure to first gather a good description.