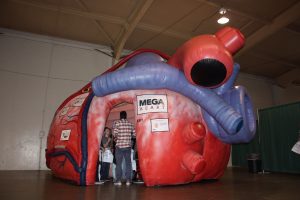 SRMC Heart Fest

View Photos
Sonora, CA — Nearly 400 students got hands-on tips and even walked through a huge heart to see its inner workings as seen in the upper left-hand image heart.
February is American Heart Month and Sonora Regional Medical Center (SRMC) hosted its second annual Heart Fest at the Mother Lode Fairgrounds this week. Besides the giant heart, there were booths with information on reasons for not smoking, nutrition, dissected cow heart demonstration, fitness, and demonstrations on performing CPR. Eight Tuolumne County schools took part in the event.
Director of Marketing at Sonora Regional Medical Center Lindsay Brewer commented, "Our goal is for all of these kids to take the information they've learned today and build even healthier futures for themselves and their families."
Nearly 300 adults also got in on the act by getting their cholesterol, blood pressure, carbon monoxide, and body mass index checked. There was even a special test, called the Framingham Score Calculation to assess a person's 10-year risk for heart attack. Adults ate a free heart-healthy meal while listening to a seminar conducted by cardiologists Atul Ramachandran, MD, and Eric Hemminger, MD.