SRMC's Event Deemed A Heart Healthy Success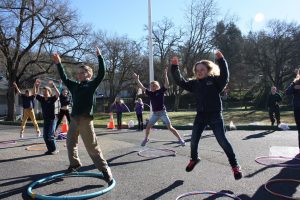 ML Adventist Junior Academy Students Participate At Fitness Station

View Photos
Sonora, CA — Nearly 400 students, and 300 adults, took part in the daylong "Heart Fest" at the Mother Lode Fairgrounds.
The event was put on earlier this week by Sonora Regional Medical Center in honor of American Heart Month. Students from eight Tuolumne County schools passed through during a children's fair portion of the event. They rotated through stations focused on smoking avoidance, nutrition, a demonstration dissecting a cow's heart, fitness, a walk through a "Mega Heart" and an ambulance tour. Lindsay Brewer, SRMC's Director of Marketing, says, "We were quite impressed with how engaged all of the children were. Our goal is for all of these kids to take the information they've learned and build healthier futures for themselves and their families."
Following the children's portion, 300 people stopped in for a complimentary heart-healthy meal and listened to a seminar put on by cardiologists Dr. Atul Ramachandran and Dr. Eric Hemminger. Immediately afterwards, SRMC departments offered screenings for things like blood pressure, cholesterol, carbon monoxide, body mass index and a Framingham score calculation to assess 10-year risk for heart attack.
Brewer adds, "I'm grateful to everyone who helped make Heart Fest a big success, especially all of our sponsors and volunteers."
2016 marked the second year of what has now become a popular annual event.