Sweet Sounds Of Commerce Ring Ahead Of Double Holiday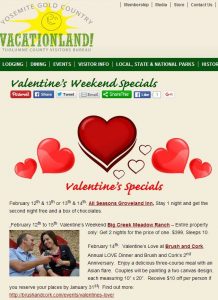 The Tuolumne County Visitors Bureau Promotes Valentine's Day Weekend 2016

View Photos
Sonora, CA – With Valentine's Day, Monday Presidents Day and terrific weather as their trifecta many local businesses stand to savor sweet wins this weekend.
Presidents Day, a three-day weekend extender for many, last followed directly after Valentine's Day back in 2009. This time around, both nationally and locally, consumers are seeing more promotions by major retailers and small businesses. Experts predict the convergence of two already popular consumer holidays will likely set sales records for sweetheart gifts, dining, special outings, not to mention "Presidents Day Sale" merchandise.
"We have checked in with our local lodging and found that most places are booked up," shares Lisa Boulton, executive director of the Calaveras Visitors Bureau. Remember, too, she says, "President's Wine Weekend is a big deal for us…Murphys definitely is going to get a lot more visitation." A blog suggesting unique settings around the county where those who might be inclined to "pop the question," shared via social media a couple of weeks ago, generated a nice response, according to Boulton. She confides, "So it is lining up, I think, to be a very productive weekend, as far as tourism, with the combination of Valentine's Day, Presidents Wine Weekend — and the gorgeous weather that we are having right now…and, even still, the snow we are having up in Bear Valley."
Meanwhile, at the Tuolumne County Visitors Bureau, a timely media campaign targeted to those "looking for love in all the right places" sparked advance bookings for a number of romantic lodging, dining and outing options that were included. A web search done at the beginning of the week shows many of the area's quaint inns and other lodging are near or fully booked. Locals anticipating a Valentine's weekend brunch or dinner at a favorite spot but have not yet made reservations may need to call around a bit as limited special seatings are filling up.
V-Day National Spending Expected To Set Records
The National Retail Federation (NRF) anticipates that, across the country Valentine's Day-related sales alone should reach a record-setting $19.7 billion, up from about $18.9 billion last year, with an average total spend of about $146.84, which represents an increase of $4.53. "Low gas prices and guaranteed promotions from retailers large and small should help consumers as they look for the perfect gift for their friends and family," says NRF President and CEO Matthew Shay. "Looking ahead, we're optimistic consumers are in a good place when it comes to spending on discretionary items like gifts," he happily notes.
A recent shoppers' survey indicates that this year, total spending on significant others/spouses is expected to hit $12 billion. Nearly 91 percent of those surveyed plan to "gift" something to their significant other, spending an average of $89.86 on that person in the process; up $1.92 from last year.
Nearly four in ten of us will treat our special someone to dinner and a show or other experience, to the tune of an estimated $4.5 billion. Almost 20 percent of Valentine's Day gift givers plan to purchase jewelry, adding another $4.4 billion to related sales. Candy purchases will total $1.7 billion, as nearly half of us choose to satisfy someone special's sweet tooth. Around the same number will buy greeting cards, ringing another $1.1 billion into the national total. Experts estimate another $2 billion will come from apparel gift purchases; $1.9 billion from floral ones. Additionally, consumers will spend an average of $27.79 on other family members; $7.08 on the kids' classmates and teachers; $5.83 on co-workers.
No matter how you "spend" the weekend ahead remember at the same time you'll be hearting the local economy.