Much Needed Supplies for Butte Fire Survivors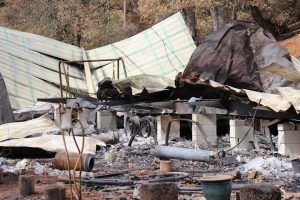 Butte Fire Recovery Debris Removal

View Photos
Angels Camp, CA — The everyday Butte Fire survival items include personal hygiene and staying warm during this latest dip into freezing temperatures.
The Calaveras Community Foundation along with PG&E has award a $40,000.00 grant to the Friends of Rail Road Flat School, a non-profit organization, to assist in the fire recovery process. Foundation spokesperson Chyrl Hillis notes that since mid-September of last year donations reached more than $500,000, with $200,000 already handed out, including this latest grant. Hillis list what those dollars will go towards, "They're going to use it for more port-a-potties, propane heaters, more things those people still living in tents have to have." Additionally, on the list of supplies are solar and propane showers, tarps, bungie cords, food, batteries, flashlights, toiletries and household supplies.
One reminder from the Foundation, related to its year round funding grants to the community at large, the deadline to submit an application for the 2016 competitive grant cycle is Monday, Feb. 15. Hillis notes no dollar amount has yet been set. "That's something that they [the board] decide once we see how many applications we've got and the caliber of those. The applications can run from $5 to $10,000."
Here is the Foundation's list of initiatives:
Aging in Place for Seniors
Support for Learning of Science, Technology, Engineering and Math (STEM)
Cultural – focusing on projects that enhance our County's culture through art, music, theater, history, dance and other cultural activities.
Funding for these grants is from the Foundation's General Grant Fund. For applications and additional information, click here.