A Well Thrown Stone And CPR Save A Groveland Man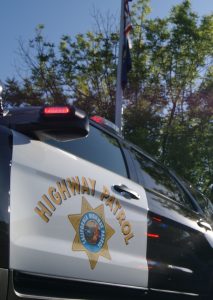 CHP patrol car

View Photos
Groveland, CA — The CHP is saluting three passersby for their quick thinking and actions that saved the man's life.
The incident happened just after 3 p.m. Thursday afternoon at the Groveland Museum/Library parking lot west of the intersection of Highway 120 and Ferretti Road. The CHP reports that 67-year-old Steve Chapman, a volunteer at the museum, had just pulled into the lot to start his shift when he suffered a heart attack. He slammed on the brakes of his 2003 GMC 1500 truck but lost consciousness and the pickup swerved to the left smashing into a parked 2015 Nissan Rogue SUV. The CHP indicates that the jolt from the crash caused Chapman's foot to slip from the brake to the gas pedal and the truck's wheels started spinning and squealing. That caught the attention of 56-year-old Bruce Faber delivering packages in his FEDEX truck and two other unidentified people to spring into action.
The group rushed to the pickup seeing Chapman slumped over the steering wheel. However, the doors were locked so, they picked up a rock, broke out the driver side window, and pulled him out. Chapman had no pulse and they began CPR until emergency crews came on the scene.
Suffering major injuries, Chapman was flown to Doctors Medical Center in Modesto. The CHP reports a Certificate of Community Service is being submitted for Faber to recognize his heroic act.