Popular Local Artist In Recovery After Brain Surgery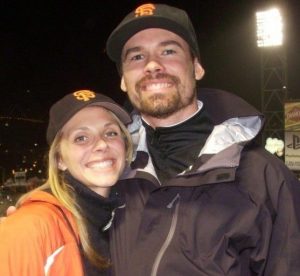 Mother Lode Artist Dave Christian with his wife Annalisa

View Photos
Sonora, CA – An artist well-known for creating colorful vintage-feel travel art posters of Mother Lode landmarks is recovering after emergency brain surgery.
Last week, Dave Christian, known for his intricately hand-lettered travel art depictions of attractions across the Sierra Nevada and other destinations, shared details through social media of a sudden severe health issue that caught his family off-guard. Suffering from migraines for several years, last Friday he reported that his symptoms suddenly escalated; so much so that his wife Annalise took him to the ER. After a CT scan turned up a large benign meningioma tumor in his left frontal lobe he was taken by ambulance to UCSF for a surgery, which was scheduled for yesterday.
Today, a friend of the Christian family who established a gofundme Dave Christian Medical Fund page, reports that yesterday's surgery went well, although the tumor removed turned out to be larger than earlier thought. Jessica Weidmann, creator of the page, adds that the self-employed full-time artist and his wife, who already have two small children, are due with another in May and face unknown medical bills as he recovers. Over the past day the page has received 183 contributions totaling $18,265. Click here to view the page. For more on Dave and his art, click here.