Calaveras Continues To Conserve Water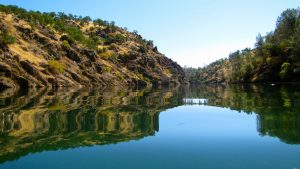 Lake Tulloch

View Photos
Despite 135% of average snow fall in the Sierra Nevada for this time of the year, state regulators extended revised conservation measures through October.
Joel Metzger, Customer Relations Manager and Public Information Officer with the Calaveras County Water District (CCWD), was Thursday's KVML "Newsmaker of the Day".
When it comes to the local reservoirs, Metzger says that even with an above average snow pack, there were so many years of consecutive drought that there is still a shortage of water. As of today, the reservoirs would still be fairly close to where they were last year.
On the average, CCWD customers have conserved their overall water usage by 30%.
Current water levels at New Hogan is at 24% of capacity. The bad news, according to Metzger, is that the water quality isn't that good due to the Butte Fire destroying much of the water shed. New Melones is at 17% of capacity. Lake Tulloch is at normal levels. Spicer Reservoir is at 20% of capicity. It should fill up when the snow melts.
Metzger says that most of the water experts claim that we will need 150% of average snowfall, just to bring back all water levels to where the state needs to be. Ultimately, there needs to be much more than that.
For more information, log onto www.ccwd.org
The "Newsmkaer of the Day" is heard every weekday morning on AM 1450 KVML at 6:45, 7:45 and 8:45 AM.