Tuolumne County Continues Emergency Declarations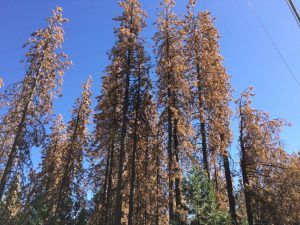 200 trees to be removed due to Bark Beetles Leisure Drive Sugar Pine

View Photos
Sonora, CA — Tuolumne County voted to continue the local state of emergency declarations related to both the drought and dead and dying trees.
On the issue of water supply, county OES Coordinator Tracie Riggs says while there were no additional wells that reportedly went dry in December, they started to get a few referrals each week in January. 238 wells have gone dry during the drought, and around 346 homes have been impacted. The state has not given indication that it plans to end the current drought relief funding anytime soon.
On the issue of tree mortality, Riggs pointed out that PG&E is estimating that around 12,000 trees have been dropped recently in Tuolumne County, and around 8,000 are still to go. The company is investing around $20-million to do so. That said, the trees remain on the ground, so the county is helping to coordinate how to remove them.
In addition, Caltrans is beginning to remove several trees along Highway 108. The county is also going to help coordinate resources to help those removal efforts.
The Supervisors voted 5-0 to continue the local state of emergency declarations.