Update: New Details On Bret Harte Lockdown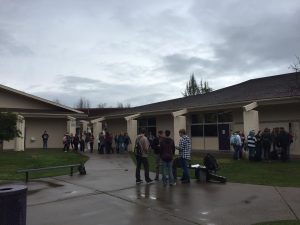 Students head to class following lockdown

View Photos
Update at 2:30 p.m.: The Angels Camp Police Department became aware of the earlier referenced threat at around 9:20 a.m. when receiving a phone call from school officials. Law enforcement officers scanned classrooms, and the campus, and gave the all clear at around 10:40 a.m. Angels Camp Police spokesperson Teresa Pry has new details, saying, "It was a non-specific threat through third party information. There were no specific students or faculty members named in the threat. It was a possible threat to shoot students on campus."
Pry reports that at no time did a student have a gun on campus and that no students have been arrested or injured. Regarding whether the threat was a hoax, Pry states, "We don't know. We currently have officers on campus conducting interviews with potentially involved parties, so we hope to find out soon."
Pry notes that there could be criminal charges against individuals even if it is a hoax. Anyone with information regarding the incident is asked to call the Angels Camp Police at (209) 736-2567.
Update at 11:30am:  Shortly after the lockdown status was lifted at Bret Harte High School this morning, District Superintendent Michael Chimente provided a rundown to Clarke Broadcasting of the morning's events.
Chimente says, "We received information this morning about a possible threat on our campus. We investigated the threat, and prior to going to break, I made the decision to lockdown. We notified Angels Camp PD, who notified CHP and the Calaveras Sheriff's Department. We did a thorough search of all the classrooms and surrounding area. We determined that there was not a threat. All of our students were safe during the time of the lockdown. Our students cooperated. Again, we did it as a precautionary measure to keep all of our students safe. No one was harmed and no one was injured."
Chimente said he could not comment on the specifics of the "threat." He noted that an investigation into the incident is ongoing.  He praised local law enforcement for their quick and professional response.
Update at 10:50am: Bret Harte High School officials report that the lockdown on campus has been lifted, as law enforcement has given the all clear. The lockdown was in relation to a threat on campus. We'll pass along more details as they become available.
Original story posted at 10am: Angels Camp, CA — Bret Harte High School is on lockdown status this morning.
The district office confirms that police are on scene, and it is not because of a drill. However, no information is immediately available as to the circumstances. Angels Camp Police Department officials are not immediately available for comment. You will notice law enforcement activity in the area. Officials have been witnessed conducting a sweep of the campus. We'll pass along more information as it comes into the news center.
General School Lockdown procedures are in our community emergency preparedness section detailed here.