Butte Fire Burn Area Braces Ahead Of Another Storm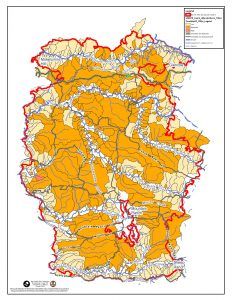 Butte Fire Preliminary 100-year Combined Hazard Map

View Photos
San Andreas, CA — Butte Fire burn area erosion measures continue ahead of a forecast for heavy rains and a flash flood watch and recovery progress continues to improve, officials say.
Ahead of another storm system expected to locally bring up to three inches of rain from Friday afternoon through Saturday morning, Calaveras County government spokesperson Sharon Torrence reports that CAL FIRE crews from Vallecito are busily spreading rice straw by hand while Calaveras Grown volunteers continue to help make the material available for residents' use. She adds that plans are, come February, to use helicopters to additionally help in more widely dispersing the ground cover.
According to the latest county numbers, of the 817 properties in the debris removal program, 369 are completed; erosion measures have been conducted on 137 properties. Weather permitting, crews will continue to work on their seven-day weekly schedule to remove debris from impacted properties.
For county residents who are still in need of erosion prevention measures ahead of the coming storm, sand and gravel, along with bags remain readily available. Torrence confides that the county has moved to an "honor system," so that proof of residence and other previous requirements have been lifted. (Locations are provided at the end of this story.)
From Recovery To Rebuilding 
Torrence reports that last Friday's Rebuilding Calaveras: A New Beginning event in Mountain Ranch drew about 100 attendees who had the opportunity to speak one-on-one with and ask questions of state and county officials, building industry professionals and realtors. "We are hoping for a good response as far as people wanting to rebuild in the county," she shares. "I think people…some are still in the grieving process – going through that – we have had about 30 plans submitted to the Building Department." She adds, "The cleanup is going really well. I think the way the next few weeks go, weather-permitting, you are going to see it going at an even faster pace.
A temporary AT&T cell tower on wheels, placed into service in Mountain Ranch during the disaster and early recovery stages, recently hauled away after the utility completed its repairs in the area, according to Torrence, sparked some controversy over dashed hopes that the service would remain "new and improved." She shrugs, adding, "But the cell coverage is back to where it was, pre-fire…because of the [low] number of people we that have in the area, I don't know whether AT&T or Verizon have plans to improve that…it would mean, probably of dollars to get towers to cover those tough areas."
Overall, Torrence remarks that efforts are moving in an increasingly cohesive, positive direction, though she points out that the disaster is still fresh. "It has been five months next month – I think everybody is still [feeling] a bit raw," she admits.
Calaveras County Sand And Gravel Bag Locations
Arnold · Arnold Maintenance Yard, 11191 Linebaugh Road (Closes at 3:30 p.m.)
Glencoe · Glencoe Maintenance Yard, 16151 Hwy 26 (Closes at 3:30 p.m.)
Jenny Lind · Jenny Lind Yard, 11558 Milton Road (Closes at 3:30 p.m.)
Mountain Ranch · Mountain Ranch Community Park, Washington Street
Murphys · Fire Station, 37 Jones Street
Rancho Calaveras · Vista Del Lago Cul-de-sac near DuHamel Family Dentistry, 313 Vista Del Lago
San Andreas · San Andreas Road Yard, 891 Mountain Ranch Road (Closes at 3:30 p.m.)
Valley Springs · Mangili Road Cul-de-sac at Valley Springs Sports & Fitness, 145 Mangili Road