Turnout Numbers Increase For MLK Jr. Event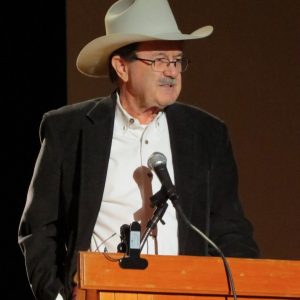 Closeup, Keynote Speaker Jim Hightower, Motherlode MLK Jr. Celebration 2016

View Photos
Sonora, CA — The words and teachings of Dr. Martin Luther King, Jr. may be resounding more in the Mother Lode these days, some say, as people see that society, decades later, is still dealing with many of the same issues.
Sunday afternoon's  annual Motherlode Martin Luther King, Jr. Celebration event drew close to 500, a turn out that represents the celebration's highest attendance since it was first held 21 years ago, according to event spokesperson Pat Cervelli. The free and open to the public gathering took place in the Sonora High School Auditorium.
"I think that there is a lot more attention being paid to Dr. Martin Luther King as the years go by," Cervelli surmises. As she points out, "He has been dead since 1968…going on 50 years." Continuing, she declares, "When you read the things he wrote and his speeches, they are so relevant today… poverty, income inequality… government spending on war that is not really benefiting the American people…a lot of issues that are at the forefront today — and that our Presidential candidates are talking about today."
Keynote speaker, syndicated media personality Jim Hightower, "America's most popular populist," delivered his own remarks on the subject of inequality that Cervelli states were punctuated with "quite witty" notes well appreciated by the audience. Celebration goers also heard performances by the Gwen Amey Gospel Choir from Merced; local music theater favorites Michelle Allison and Dennis Brown; and student participants from the Tuolumne County Arts Council Poetry Out Loud program.
Cervelli adds that the Motherlode Martin Luther King Jr. Celebration Committee continues to welcome volunteers and donors to help plan the yearly event, which costs about $8,000 to $9,000 to produce. For more details on the committee, other planned activities and ways to help out, call 209 928-3494, or click here