Crash Causes Damage In Sonora Parking Lot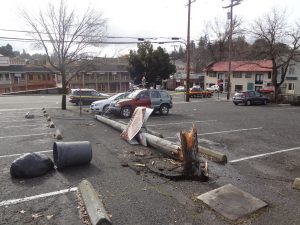 Crash In Sonora Parking Lot

View Photos
Sonora, CA — The Sonora Police Department is still investigating the details of a crash yesterday that took down a PG&E power pole.
It happened at the city owned parking lot at the intersection of Shepherd and Bradford streets. The Police Department reports that 18-year-old Breanna Althouse of Sonora was driving a VW Passat on Shepherd Street and she entered the parking lot from the wrong direction, passing a "do not enter" sign. The PD reports that she then accelerated at a high rate of speed, and it caused her to lose control of the car. The VW hit several cement parking bumpers, and then a PG&E power pole. The pole snapped and the light fixture hit another vehicle parked in the lot. Althouse sustained minor injuries in the crash.
The PD reports that drugs or alcohol are not believed to be a factor in the incident, but the details surrounding the crash are still being investigated. It occurred at around 10:05am.