Heavy Damage Caused By Butte And Valley Fires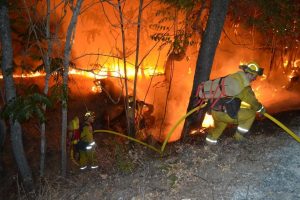 Butte Fire

View Photos
Sacramento, CA — The state's insurance department is estimating that two wildfires this past summer resulted in $1-billion in insured losses.
The Associated Press reports that the Butte Fire in Calaveras County had $300-million in insured losses, while the Valley Fire had $700-million. The Butte Fire destroyed over 800 buildings and resulted in two deaths. It started on September 9th and burned 70,868 acres.
Meanwhile, the Valley Fire resulted in four deaths and destroyed around 2,000 structures. It started three days later, September 12, and burned 76,067 acres.
The combined $1-billion figure takes into account insurance claims filed through December. It does not include uninsured losses that residents may have encountered.