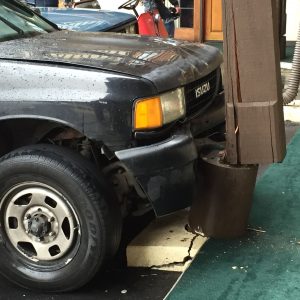 SUV accident at Inns of California

View Photos
Sonora, CA – A Jamestown man smashes into a downtown Sonora motel and police cite that a cookie led to the crash.
The wreck happened at noon at the Inns of California motel. Sonora Police Chief Mark Stinson reports 39-year-old Steve Cook was heading south on South Washington Street driving an Isuzu SUV when he started choking on a cookie. Stinson continues, "As he pulled over, he accidently accelerated the vehicle through the parking lot of the motel into Gold Rush building and struck a support beam…almost knocking it off its base."
Cook was not injured. Officers roped off the scene with yellow tape. A building inspector assessed the damage and any safety concerns. Chief Stinson notes there is no dollar amount released, but six of the rooms surrounding the crash site have been shut down for not being habitable. No customers were in the rooms at the time of the accident.