Tuolumne County Eyes Electric Vehicle Tourism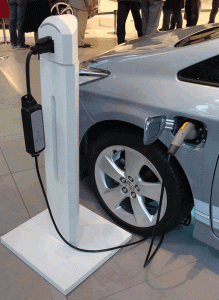 Electric Vehicle Charging Station

View Photos
Sonora, CA — Tuolumne County is hoping to tap into a growing niche in the tourism industry.
The Supervisors voted 4-0 to request proposals from companies that are interested in leasing a portion of a parking lot at the intersection of Main Street and Ponderosa Lane in Groveland to install an electric vehicle charging station. The provider would need to develop and maintain, at its own cost, a portion of the 0.2 acre lot to serve those electric vehicle customers that travel to Groveland.
Tuolumne County Visitor's Bureau Executive Director Lisa Mayo told the Supervisors, "We look at this as a really great marketing opportunity. 'Electric vehicle tourism' is a real thing."
The hope is that visitors will stop and charge their vehicle, when heading to or from areas like Yosemite National Park, and then proceed to shop and/or dine.
Mayo added, "So it does have an economic benefit, as well as environmental, and social."
Proposals will be accepted by the county through February 9 and a lease could be in place around March 15.