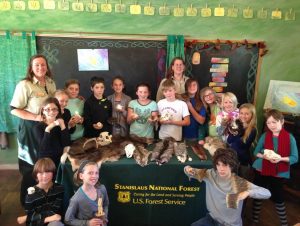 Fourth grade students at Sierra Waldorf elementary school took turns holding various items from a U.S. Forest Service interpretive presentation on "Skins, Scat and Skulls."

View Photos
Sonora, CA – A new hands-on wildlife program called "Skins, Scat and Skulls" is being offered to local students to let their curiosities entice them to visit the Stanislaus National Forest (STF).
Forest officials explain that last fall, in partnership with 3 Forests Interpretive Association and the Tuolumne River Trust, interpretive specialists from the forest brought the program to local 4th grade classrooms in Tuolumne, Calaveras, Mariposa, Alpine and Stanislaus counties.  During the presentation, kids can earn a free "Every Kid in a Park" pass allowing them to go on field trips to the forest through a $9,000 transportation grant from the National Park Foundation.  Once there, students activities include hikes; becoming a Junior Ranger; Park and/or Forest volunteer cleanups; discussion of "Leave No Trace" concepts; tree planting in the Rim Fire burn scar; and discussion of renewable resources, as well as fire safety.
"The program has already allowed several students from Tenaya School to visit parks, and many more are planning visits this spring and summer with their free pass," said Rob Egger, 4th grade teacher at Tenaya Elementary School.  "I am hopeful that the Every Kid in a Park program will continue so more kids will have this opportunity each year."
The goal is to reach more than 1,000 children at 31 schools, according to forest officials, who indicate that while all of the students live about ten to fifty miles from the forest, many have never actually visited the local public treasure.
Additionally, as previously reported, Yosemite National Park hit a record with its youth educational programs last year, attributing the success to the "Every Kid in a Park" program, as well.