Yosemite Entrance Fee Waived This Monday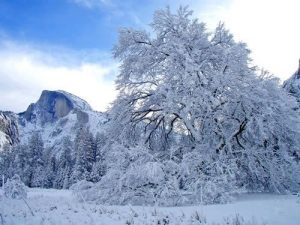 Yosemite National Park

View Photos
This weekend is a three day Holiday weekend and numerous visitors are expected to visit Yosemite National Park.
Spokesperson Ashley Mayer was Friday's KVML "Newsmaker of the Day".
"Winter is a great time to visit" said Mayer, "The crowds are not as large as during the Summer and because of recent snowfall, several of the majestic waterfalls are back."
Ice skating is a popular activity at this time of the year and folks can also go snow skiing at Badger Pass ski area.
The entrance fee will be waived this Monday on Martin Luther King, Jr. Day . All other fees associated with camping, lodging, or activities within the park will not be waived.
According to Mayer, "This is a beautiful start to the new year. The air is cold and most of the main roads that are open year-round are clear of snow."
There are always exceptions and conditions can change rapidly, so carry tire chains.
Mayer also discussed the several birds and animals that visitors may see at this time of the year. It is important to remember to only observe animals and never interact with them.
Visitors are also reminded to use caution when approaching ice covered ponds and lakes. Some of the lakes can support people walking on top of the ice, but that is not always the case.
Other upcoming free entrance days this year include:
April 16 through 24: National Park Week
August 25 through 28: National Park Service Birthday
September 24: National Public Lands Day
November 11: Veterans Day
The "Newsmaker of the Day" is heard each weekday morning on AM 1450 KVML at 6:45, 7:45 and 8:45am.