Update: Mono Vista Power Outage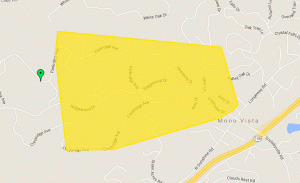 Mono Vista Power Outage

View Photos
Update: PG&E reports that the power in Mono Vista has been restored. What caused the outage is not immediately clear.
Original story posted at 7am: Sonora, CA — 139 PG&E customers are without power this morning in the Mono Vista area of Tuolumne County.
PG&E is investigating the cause of the outage, but hopes to have everyone restored before 8am. It is impacting many homes along Ridgewood Drive, Crestridge Avenue, Parkridge Avenue, Amy Drive, Crestview Drive, Lynn Lane and Heavenly Drive.
To report power outages, or try to receive information about a specific neighborhood, you can call 1-800-PGE-5000.