Update: Crash Causes Power Outage – Officers Searching For Driver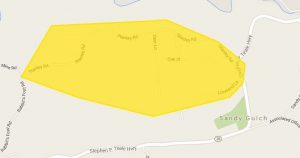 PG&E Outage West Point

View Photos
Update at 5:30 p.m.: PG&E reports a repair crew is on the scene assessing the damage after a vehicle crashes into a power pole bringing down live lines and the driver fled the scene.  The CHP reports officers directing one-way traffic on Stanley Road for the next two hours as those crews work to repair electricity to the 81 customers without power in the area. The company has pushed the estimates the restoration time to 11:30 p.m. The CHP reports officers have found the vehicle involved in the wreck but are searching for the driver.
Update at 5 p.m.: The CHP reports a tip from an area resident led officers to a vehicle parked at a nearby home with front-end damage. However, the driver was not found in the vehicle and officers are searching the area.
Original Post at 4:36 p.m.: West Point, CA – The CHP reports a hit and run crash in West Point area brought down live lines causing a power outage.
The CHP says the driver hit a pole on the 390 block of Stanley Road sparking the outage for 81 PG&E customers along that Road extending from Rabbit's Foot Road to Highway 26 and Loveland Lane. A repair crew is heading to the scene to assess the situation. At this time, the company estimated the power restoration at around 5:30 p.m.
The CHP reports officers are searching for the vehicle involved in the wreck. We will bring you more details as soon as they come into the newsroom.