New Nightly Shelter For Butte Fire Survivors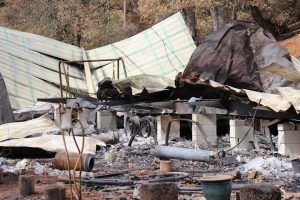 Butte Fire Recovery Debris Removal

View Photos
Mountain Ranch, CA — Those hit hardest by the flames now have a warm place to stay overnight all week long.
The Out of the Weather Rally's warming center at the Mountain Ranch Community Hall, run by the Mountain Ranch Community Relief Efforts, has opened on a permanent basis 7 nights a week.  Organizers hope that this will go a long way in getting the word out to Butte Fire  survivors who are living on their properties in substandard conditions, including some in tents with no power, water or septic.
The shelter hours are 6 p.m. to 7 a.m. nightly.  Additionally, there will be dinner served nightly at 6:30 p.m. and breakfast at 6:30 a.m. and lunch on Sundays.  There are several resources available, including the use of a computer and printer.  Organizers note that private citizens are donating all these services and the shelter is being manned by volunteers.  However, more help is needed.  For more information, please email trisha@mtranchstrong.com or call 1 800-320-1407.
The group provided these guidelines for using the shelter:
Services will be available for Butte Fire survivors living in substandard housing situations in the burn scar only.
Meals and beverages will be available.
Survivors are encouraged to bring their own bedding.  Some bedding will be on hand for those in need.
Small to medium size family pets are welcome.  All pets remain the responsibility of the pet owner.  All pets must be in a crate while in the Hall.  Pet owners are encouraged to bring their own crates.  Some crates will be on hand for those in need.
Drugs and alcohol will not be permitted at any rally.