Crews Removing Boulders In Yosemite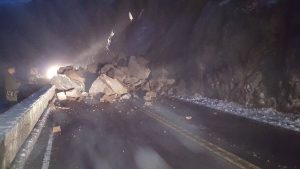 Rockslide On El Portal Road

View Photos
Yosemite, CA — Crews have begun removing the debris left by a rockslide that shutdown a section of El Portal Road (Highway 140), an entrance to Yosemite Valley.
As previously reported, on Thursday at 5:45 a.m. rock fall triggered several large boulders and mud to come crashing down on the roadway. On Friday, Park and U.S. Geological Survey (USGS) staff assessed the site and deemed it safe for crews to remove the debris. Park spokesperson Ashley Mayer explains, "At this time we do not have an estimated reopening for the road. We do not know how long it will take to clear. The crews work will dependent on what the weather conditions and safety is an utmost priority."
With another winter storm moving into the area, Mayer acknowledges that the boulder removal could take several days. All services within Yosemite National Park remain open.  Visitors can use alternative entrances along Highways 41 and 120.  For Yosemite road conditions, visitors can call 209-372-0200 or click here.