Rockslide Blocks Forest Road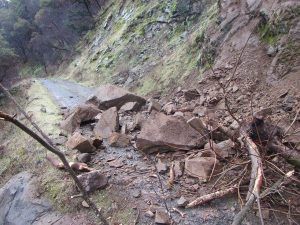 STF Lumsden Road rockslide

View Photos
Groveland, CA – The recent heavy rains in the Rim Fire burn scar caused a debris slide, closing a road on the Stanislaus National Forest.
As can be seen in the upper-left hand image box crews found debris covering Lumsden Road/Forest Road 1N10 about a quarter of a mile west of Merals Pool Raft/Kayak Launch around 7:40 a.m. Friday. Groveland Ranger District Public Service Programing Leader Dusty Vaughn says, "It looks like a combination of a tree falling over and taking some rocks with it, as well as the wet weather and winds that we've had."
The roadway is very popular in the summer time with kayakers and campers as it leads to Lumsden, South Fork, Lumsden Bridge campgrounds.  Vaughn says clearing the debris will require a backhoe, adding, "We're working with our road crews right now to try to schedule a day for them to get out there and clear it. I don't have an anticipated date for that yet."
Vaughn cautions that motorists should always stay clear of the Butte Fire burn footprint when wet or windy weather hits, which according to the National Weather Service is moving into the region again this evening.