Operations Update, $300,000 Grant Request On TUD Agenda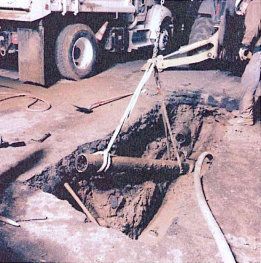 One of the TUD main line break repairs during Veterans Day 2015

View Photos
Sonora, CA – During its short agenda next week, the Tuolumne Utilities District (TUD) board of directors will likely approve seeking $300,000 in efficiency grant dollars and hear an operational update.
On its consent calendar, the board anticipates giving the greenlight for staff to submit a funding application that requests $300,000 in grant monies as part of the Bureau of Reclamation (BOR) WaterSmart grants program. Through it, BOR is making about $23 million available to support projects designed to conserve and use water more efficiently. Submitting entities, which must be capable of providing a 50 percent match, will hear by June if selected to participate with funds to be awarded by the end of September.
TUD's application details $550,000 in total project costs for the construction of an 1,850-foot, 12-inch diameter raw water pipeline to the Columbia water treatment plant from the Matelot Reservoir that aims to eliminate the need for advanced water treatment processes, improve quality and efficiency, and reduce current risks of contamination. Also listed as part of the project is an automated turbidity station and upgrades of raw water meters with automated versions. If chosen, TUD would meet the match using approximately $100,000 of in-kind services and $200,000 in funds.
In his latest report to the board, TUD Operations Manager Don Perkins will provide an update on water and wastewater operations to include November maintenance and construction milestones. Among the collections department activities, Perkins reports that well over 12,000 feet of sewer mains were flushed along with the semiannual flushing of the entire Mi-Wuk system. Ditch tenders completed necessary maintenance on the Eureka, Roaches Camp, Columbia, Matelot, San Diego and Soulsbyville ditches during their regular outages, repairing known leaks, clearing out overgrown brush, silt and debris, and performing berm work. The Gibbs Estates capital sewer rehabilitation project, now 60 percent complete, includes 6,000 linear feet (LF) of the 7,000 LF 4-inch sewer lining;  the removal and replacement of 375 LF of lines, and installation or rehab of 40 manholes.
For the report period, Perkins shows that crews put in nearly 480 hours of overtime, including over three holidays; 88 hours of this was spent on Veteran's Day alone, when three mainline breaks occurred in Tuolumne and Columbia that required full crews.
Also on the consent agenda is a staff recommendation that the board reject a customer claim for just over $14,000 made by owner Gretchen Walters, relating to a backup of sewage into her Sonora rental property on Delores Lane that occurred last November. Walters noted in her paperwork that TUD had to clear the backup, which was not located on the property. Her claim request for compensation included loss of a month's worth of rental income, due to tenant displacement; costs for construction and plumbing labor repair plus materials; carpet replacement; testing for bacteria, lead and asbestos; and cleaning.
Tuesday's meeting begins at 2 p.m. in the TUD board room (18885 Nugget Blvd., Sonora).