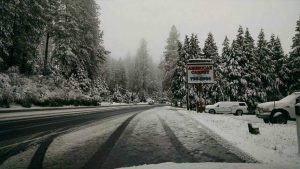 Snow in Arnold Area, Highway 4

View Photos
After a brief break during the day today, yet another cool weather system will move in tonight through Saturday.
According to the National Weather Service, snow levels in the Sierra Nevada will range from 3,500 to 4,500 feet.
Total snow accumulations will range from three to ten inches above 4,000 feet.
Rain in the Central Valley may also affect both travel and outdoor events tonight and Saturday.
Drier weather is expected on Sunday.
Another system will move in Monday into early Tuesday.