Update: Phoenix Lake Road Closure And Power Outage Extended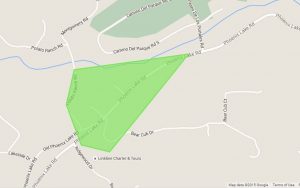 Phoenix Lake area PG&E Outage Map

View Photos
Update at 7pm: The CHP reports that the reopening of Phoenix Lake Road depends on when PG&E crews complete repairs to a broken power pole and lines down due to a solo vehicle accident. The company has already extended the estimated time of power restoration to the remain 49 customer without electricity to 10 p.m., which means the opening of the roadway will be around that time as well.
Update at 6:15pm: PG&E has extended the estimated repair time until 10 p.m. for 49 customers in the Phoenix Lake area. Those customers have already been without power for nearly six hours.
Update at 2:10pm: PG&E reports the 49 customers in the Phoenix Lake area still without power will have to wait a while longer.  Crews are  on the scene working to repair the line brought down by a pickup truck that hit a power pole on  Phoenix Lake Road near Paseo De Los Portales Road. The company has push the restoration time to 6 p.m. Additionally, the CHP report the section of Phoenix Lake Road that is close will likely remain closure until around 6:30 – 7:30 p.m. CHP Officer Nick Norton says detours have been set up in  both directions sending traffic up to Creekside Drive or onto Ridgewood Drive.
Update at 1:50pm: The CHP reports that the section of Phoenix Lake Road  near Paseo De Los Portales Road will likely remain closed through the evening commute. A pickup truck hit a power pole bringing down lines onto the roadway. PG&E repair crews have restored power to most of the more than 4,400 customers initially without electricity. However, 49 remain without lights. The estimated power restoration time is 2 p.m. The CHP hopes to have the roadway reopened sometime between 6:30 and 7:30 p.m.
Update at 1:25pm: PG&E reports that electricity has now been restored to all but 49 customers. Phoenix Lake Road remains closed, however, as repairs are being made to the downed power pole.
Original story posted at 12:40pm: Sonora, CA — A vehicle accident has closed Phoenix Lake Road, near Paseo De Los Portales Road.
CHP Officer Nick Norton reports that Phoenix Lake Road will remain closed for the next 2-3 hours, as powerlines are down in the road. You can still access the Phoenix Lake Estates if you are traveling on Phoenix Lake Road from the area of Cedar Ridge, however, there is no access if entering from off Hess Avenue.
There is a resulting power outage impacting 4,412 PG&E customers in the region of Phoenix Lake, and also stretching into communities like Soulsbyville and Tuolumne.
PG&E is responding to the area and hopes to have power restored to the thousands of customers by around 2pm.
No injuries were reported as a result of the vehicle accident.