Search For Crash Survivor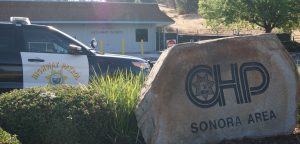 Sonora CHP Unit

View Photos
Greeley Hill, CA — The CHP is looking for a woman involved in a solo vehicle rollover crash in Mariposa County that demolished the vehicle.
The Sonora area CHP is handling the incident, which investigators believe happened during the winter storm on Dec. 24. The wreckage, a 1999 Toyota Sienna minivan, was spotted by a resident about 300 feet down a steep embankment off Greeley Hill Road near Smith Station Road east of Coulterville Tuesday, Dec. 29 around 1 p.m. When emergency crews reached the van, it was empty. Officer Daniel Crooker indicates, "The van overturned at least once. I would think the driver was injured because the minivan was mutilated, but I didn't see any blood in there."
A records check revealed the van owner was 34-year-old Miriam Alatorre from San Juan Capistrano. Officer Crooker states that investigators contacted a family member who told them of a recent Facebook posting from Alatorre admitting she had wrecked the van. However, Officer Crooker reports investigators do not know her whereabouts at this time. They are asking for Alatorre or anyone with information on her, or the crash, to contact the CHP.
On Wednesday morning officers directed one-way traffic control on Greeley Hill Road for about 1/2 hour as a tow crew used a long cable to pull the van up from the embankment. Officer Crooker reports there is no evidence that drugs or alcohol played a role in the accident.