Snowpack Reading 136% Of Average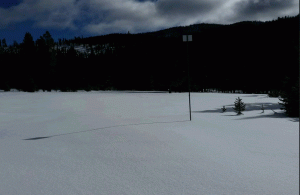 Phillips Station Snowpack

View Photos
Sacramento, CA — The California Department of Water Resources was encouraged by the first manual snowpack reading of the winter.
Today at the Phillips Station, off Highway 50 near Lake Tahoe, the reading was 136% of the average for the date. "Clearly this is much better than it was last year at this time, but we haven't had the full effect of the El Nino yet," says Frank Gehrke of DWR. "If we believe the forecasts, then El Nino is supposed to kick in as we move through the rest of the winter. That will be critical when it comes to looking at reservoir storage."
Of note, New Melones Reservoir is currently at 22% of the historical average for the date and Don Pedro is 53%. While the snowpack was exceptionally high at Phillips Station, the electronic sensors up and down the Sierra Nevada put the statewide average closer to a more modest 105%.
The Sierra Nevada snowpack typically supplies 30% of California's water during a given year.