New Details On Groveland Chase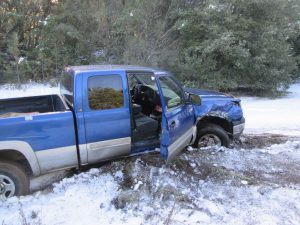 Stolen truck stuck on dirt road in Groveland

View Photos
Groveland, CA — Tuolumne County Sheriff's officials have release more details surrounding a stolen vehicle chase that ended with the suspected being tased by deputies.
The incident happened just after 9 a.m. Tuesday when Pine Mountain Lake Security alerted sheriff's officials about a suspicious person walking door to door asking for fuel for a blue Chevrolet truck. Dispatch confirmed that the truck was stolen from a 77-year-old Groveland man. Deputies spotted the pickup leaving the Tioga High School parking lot heading down Ferretti Road and followed.
Sheriff's spokesperson Andrea Benson reports that the driver of the truck, 29-year-old Chace Wanamaker, then turned onto Old Highway 120 and smashed into an unoccupied AT&T truck parked on Yosemite Springs Road. When deputies ordered Wanamaker out of the pickup, he took off with the deputies giving chase. Wanamaker then turned onto a dirt road and slid into an embankment. While he tried to free the truck, deputies ordered Wanamaker out of the vehicle. Sgt. Benson states, "As deputies approached the vehicle, Wanamaker continued to try to flee. The deputies were then forced to deploy a taser. Wanamaker was taken into custody without further incident."
Wanamaker faces several felony charges including Vehicle Theft, Possession of Stolen Property, Theft from Elder, Evading Peace Officer, Grand Theft, Hit and Run, Obstructing or Resisting Peace Officer, Possession of Methamphetamine and Possession of Paraphernalia. Wanamaker was also arrested on three previous warrants. One is a misdemeanor for theft and possession of a controlled substance and the two others are outstanding felonies for failing to appear on drug and burglary charges. Those do not allow for bail, keeping Wanamaker in the Tuolumne County Jail.