Groveland Chase Ends With Tasing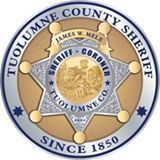 Tuolumne County Sheriff's Dept. logo

View Photos
Groveland, CA — The driver of a stolen car leads law enforcement on a chase in Groveland that ends with the suspect getting tased before handcuffed.
Tuolumne County Sheriff's officials were alerted to the vehicle theft around 10:30 a.m. A deputy spotted the vehicle and attempted to pull it over when the driver took off. Sheriff's spokesperson Sgt. Andrea Benson reports the pursuit went by Tioga High School and along Ferretti Road. Deputies caught up to the suspect who was trying to free the crashed vehicle, stuck in some mud on a dirt road.  Sgt. Benson explains what happened next, "The suspect continued to try to evade police. They did get the suspect contained, but they had to tase him because he was not cooperative."
Arrested was 29-year-old Chace Wanamaker for the vehicle theft and chase who was taken to Sonora Regional Medical Center for treatment. Sgt. Benson adds that Wanamaker has two outstanding arrest warrants. One a misdemeanor and another for felony but she had no further details on those incidents.  This case remains under investigation.