Many Heading To High Country For Snow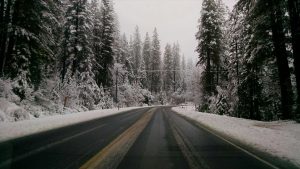 Snow on Highway 4 near Arnold

View Photos
Pinecrest, CA — If you are going to be traveling up to the snow, be prepared, and follow the rules.
That's the word from the California Highway Patrol. There were backups on Highway 108 yesterday, heading to the high country, as people pulled over to put on chains, and others that illegally parked on the side of the road and got out to sled and play in the snow.
CHP Sgt. Shawn Snyder says, "Remember to please install your chains, and park for sledding, in safe and legal fashions. We want everyone to have a safe and enjoyable time, but we are having some concerns with people parking and standing in the roadway, and causing safety concerns and traffic problems."
It is anticipated that many will be heading up to ski and sled over the next two days. To find the latest information on chain requirements, click here.
Also of note, the CHP is in the midst of a Maximum Enforcement Period. All available officers will be out on the highways through Sunday at 11:59pm.